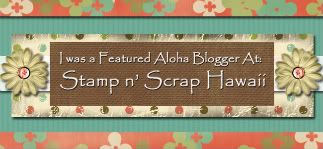 I am so blessed...I am speechless...as I will be featured on the
Aloha Blogger at: Stamp n' Scrap Hawaii...
today...Friday, Sept 4, 2009~ Thank you so much Jen and her Design Team for giving me exposure to this awesome world of crafting bloggers! I hope you like the projects I chose...but if you want more ideas...I do have some tutorial links on my side bar! Thank you!!!
If you would like to participate in the challenges...here are the rules to play:
Challenge Rules:
You do NOT need to be of Hawaii, neither does your images.
You may combine your entry with other challenges, if you like, as long as your entry fits our challenge theme of that week.
Your entry must be a new card, and not previously posted on your blog.
Simple enough, right?! =0)
To Play:
Simply create, and upload your entry to the net, then post a comment with a link to your blog posting or photo within the current challenge post, no later than the following Wednesday - 6 pm Hawaii Standard Time. On Thursday the winner will be revealed, and her/his project will be featured here on our blog! If you don't have a blog -we still want ya to play!! Simply send your entry via email to stampnscrap808@gmail.com, with the Challenge Title in the Subject line - and it will be uploaded to the net for you. We hope you enjoy our lil' blog here, and enjoy the challenges we set out to you. We look forward in seeing all of your creations and visiting your blogs!!
Thank you everyone for stopping by! I truly appreciate the comments and I can feel the love...lol! have a fun-filled, memorable, but safe long weekend everyone! I will be in Maui to play in a co-ed soccer tournament and making wonderful memories to share! I'll post some pictures of the fun when I get back!